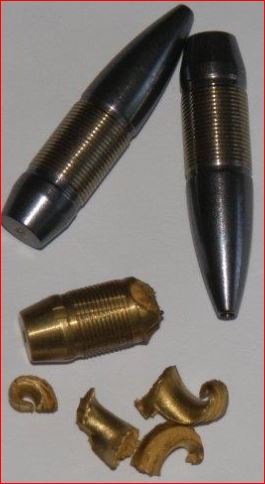 TITAN BULLETS
Helber International is the South African Distributor.
The Titan bullet has an unique and innovative design that sets these bullets apart from the other bullets available on the market.
What sets the Titan bullet apart from competitors?
First and foremost is the drive band design which is patented. Instead of having broad drive bands which all other designs have, the Titan bullet has a fine drive band design This design has a number of advantages. Instead of having three or four broad drive bands with substantial metal mass that the barrel of the rifle has to cut through which causes friction and wear of the barrel and also high pressure, the Titan bullet has many fine/micro drive bands which create a better seal in the bullet shell also while passing through the barrel of the gun.
The Titan bullet fragments into five pieces (Only hunting bullets - EXBT), namely 4 petals and the main body or shank.. It retains approximately 75% of its weight.
Titan bullets fulfill all the necessary criteria a hunter would like to gain from a bullet's performance. These are accuracy, minimal barrel wear, minimal fowling of the barre, minimal meat damage, and the increased chance in a one shot one kill.